New radiation therapy equipment!
Radiation therapy at our new hospital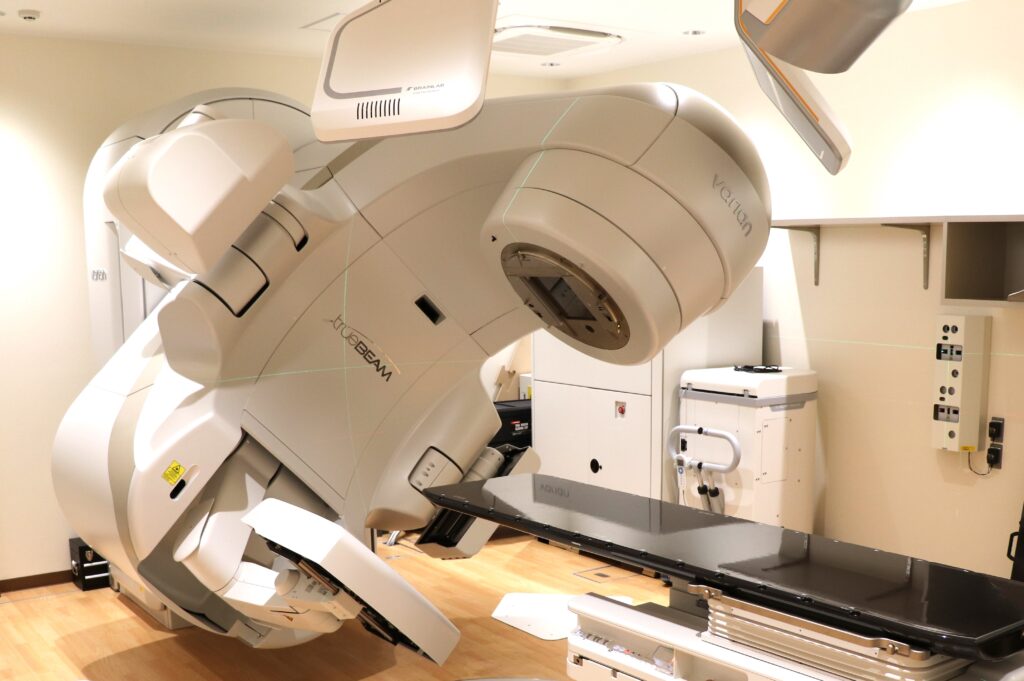 A new radiation therapy equipment (linac) will be in operation in October 2023!
In addition to regular radiotherapy, it is specially designed for more precise treatment.
Stereotactic radiation therapy is often indicated for small brain metastases.Stereotactic irradiation is a treatment also known as pinpoint irradiation.It is highly effective by irradiating small tumors with large doses of radiation in a small number of times.Previously, when performing stereotactic irradiation on multiple metastases, it was necessary to treat them one by one, but with the new linac, multiple metastases can be treated at once, reducing the treatment period. can do.
It has also been reported that stereotactic irradiation can be used to suppress the progression of metastases in the spine and is expected to be highly effective. If the spinal cord is irradiated with radiation, paralysis will occur as a side effect.For this reason, stereotactic irradiation was extremely difficult, and re-irradiation was also difficult. However, the new linac has software specialized for stereotactic irradiation of the spine, which lowers the hurdles for stereotactic irradiation and makes re-irradiation easier. There will be more opportunities available.
We are collaborating with nearby medical institutions to provide treatment!
There are various methods of radiation therapy.In some cases, conventional radiation therapy may be more appropriate than the high-precision irradiation introduced here.
In addition to regular X-ray therapy, Ibaraki Prefecture has proton beam therapy at the University of Tsukuba and CyberKnife at Tsukuba Central Hospital, making it extremely blessed with radiotherapy equipment.At our hospital, we would like to introduce you to these nearby facilities if necessary, and provide the best treatment as quickly as possible throughout the region while taking advantage of the characteristics of each.
For details, please see "Doctor's Relay Lecture - New Radiation Therapy Equipment!" and "Close-up! Radiation Therapy" below.
Click the image to print as PDF.