Clinical training hospital
Our hospital was designated as a clinical training hospital in March 13. Since 3, we have been operating clinical training doctors (hereafter referred to as training doctors) under our own training program as a managed facility, and Tsukuba as a cooperative hospital. We accept interns from university hospitals.
Under the new clinical training system that started in 16, clinical training for two years after obtaining a doctor's license is compulsory in order to acquire basic medical skills.
From 22, internal medicine, emergency medicine, and community medicine became compulsory, and surgery, anesthesiology, pediatrics, obstetrics and gynecology, and psychiatry became compulsory electives from 2.In the system from XNUMX, surgery, pediatrics, obstetrics and gynecology, and psychiatry are made compulsory again, and general outpatient training has begun.
At our hospital, in order to acquire basic medical skills without distinguishing between internal medicine and surgery, we continue to use a super rotation system to experience internal medicine, emergency medicine, community medicine, surgery, anesthesiology, pediatrics, obstetrics and gynecology, and psychiatry. doing.In addition, we have a system in place to ensure that applicants for anesthesiology training can be rotated.
The training plan emphasizes the wishes of the individual, and training in the desired clinical department is possible in the selective training.During training, in addition to instructors from each department, we are also working to enhance the support system beyond the department in charge, such as assigning senior medical mentors and full-time administrative staff.
Our hospital has the functions of a regional medical support hospital, an emergency medical center, and the Ibaraki Regional Cancer Center, and is in an extremely good environment for training in emergency care and acute care for cancer patients.
There are many research institutes in Tsukuba city, and it is connected to Tokyo by TX in about 50 minutes.Learning how to communicate with patients and their families, and how to cooperate and collaborate with medical staff through living in such a community will be of great help in improving their qualifications as doctors in the future.
Public conferences, clinical pathology conferences, lectures and study sessions are held regularly, and there are also opportunities to study with local practitioners.
Our cooperative hospitals include University of Tsukuba Hospital, Kasumigaura Medical Center, Ibaraki Prefectural Central Hospital, and Ibaraki Prefectural Medical Center for Mental Health.While complementing and cooperating with each other, we are promoting the training of doctors who will be responsible for Japan's future medical care.In addition, at our hospital, after completing clinical training,Later training system.
We would like to ask for the understanding and cooperation of the patients and their families who use our hospital for the training of young doctors.
Clinical Training Management Committee
The Clinical Training Management Committee, which includes external members, oversees the implementation of clinical training.
In the Education and Training Management Office, general affairs related to clinical training, implementation of clinical training, public recruitment and registration of trainees, communication and coordination with training cooperation facilities, consultations from trainees, etc., are carried out in cooperation with each department within the hospital. going.
In addition, the post-doctoral clinical training subcommittee, which is mainly composed of training implementation managers and representatives of each department, prepares and improves training programs, considers and prepares evaluations of trainees, holds training medical technical meetings, and prepares training programs for completion of training. We are working to provide good support for trainees, such as understanding the situation of trainees.
Using the Online Clinical Education Evaluation System (EPOC 2)
About clinical training
Click here for clinical training
Postgraduate clinical training evaluation organization accredited hospital

In March 2020, our hospital was certified (3 years) by the NPO Japan Postgraduate Clinical Training Evaluation Organization (abbreviated as JCEP) as meeting the standards.Certification period: March 4, 2020 to February 3, 1
A certificate was issued in the 2020 visit survey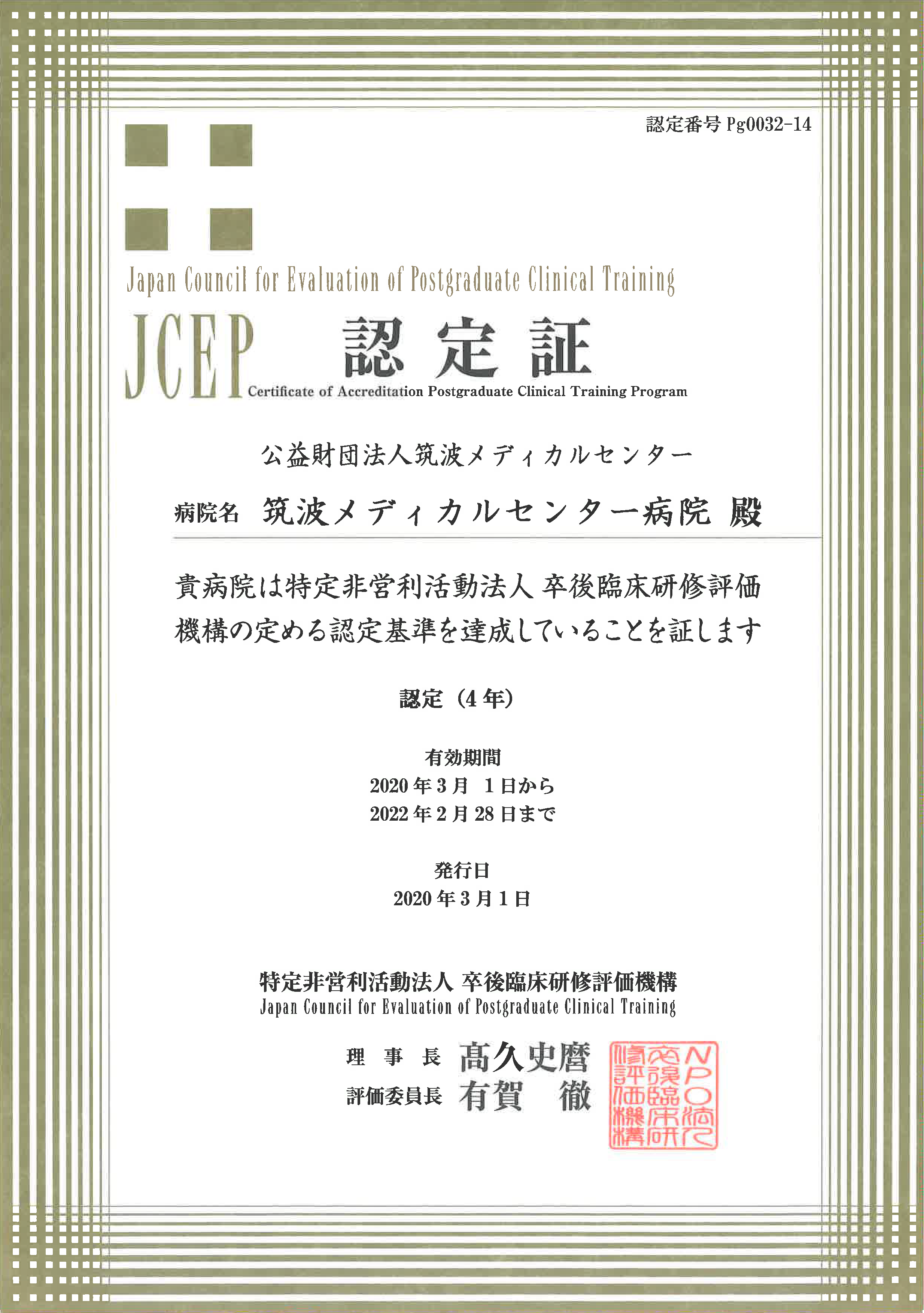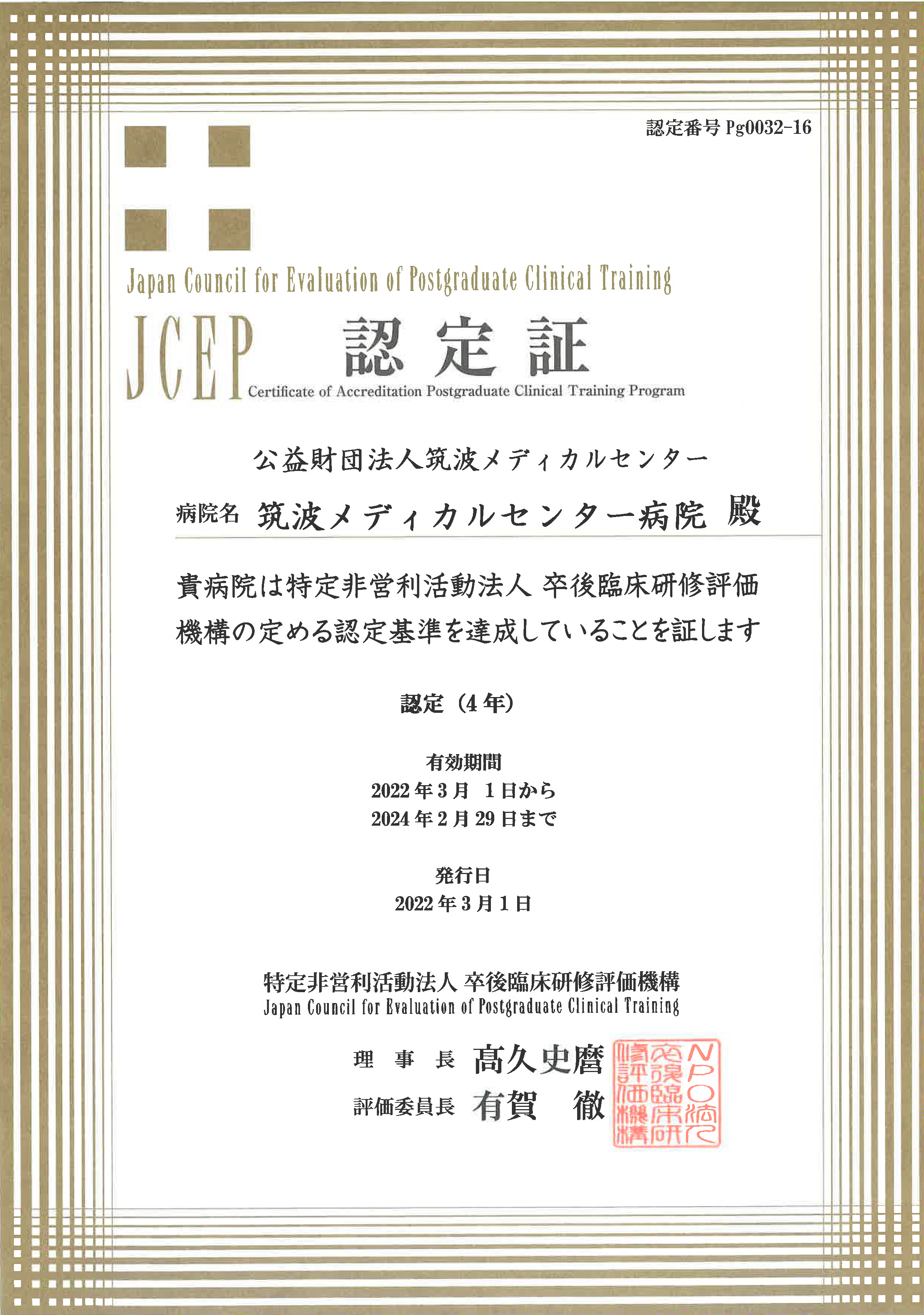 JCEP, an NPO, evaluates training programs and training status at clinical training hospitals, aiming to improve and improve the quality of medical care for the public, and contributes to the development of medical care in Japan. It is an organization established for the purpose of improving the quality of clinical training hospitals.
Click here for NPO Postgraduate Clinical Training Evaluation Organization