[For local residents] We have started recruiting students for the 3rd class of Tsukuba Medical College!
About Tsukuba Medical College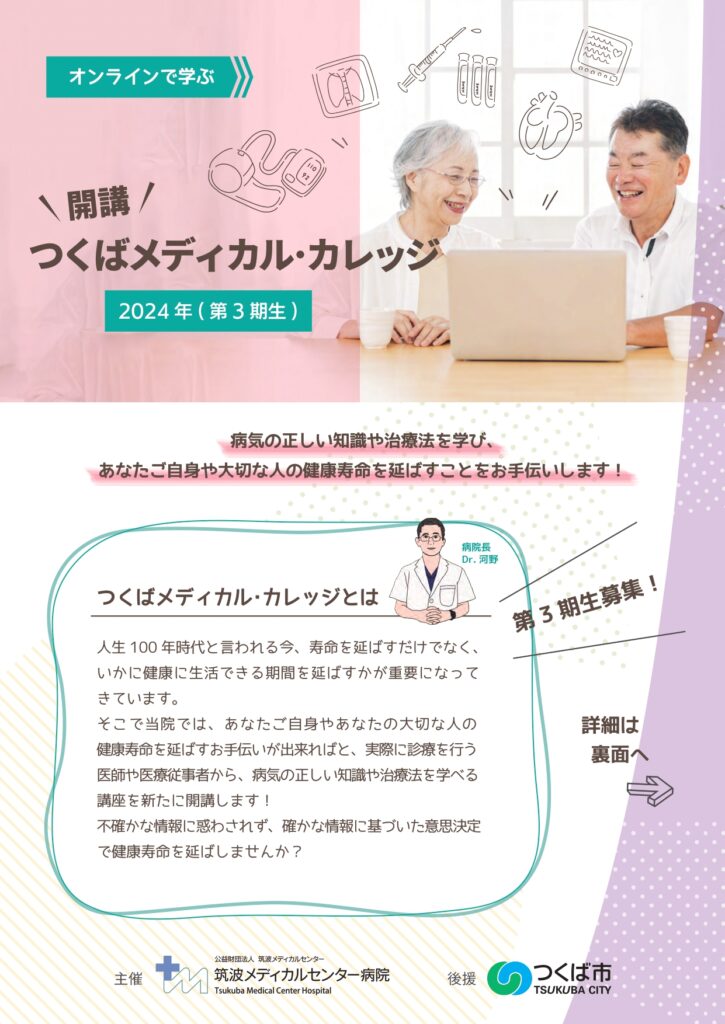 Now that we are in an era of 100-year lifespans, it is becoming important not only to extend life, but also how to extend the period during which we can live in good health.
Therefore, at our clinic, we hope that we can help you extend the healthy life expectancy of yourself and your loved ones. To do!
Extend your healthy life expectancy by making informed decisions instead of being misled by inaccurate information.

Click the image for PDF output!
Recruitment for the 2023rd class of 3 has started from November 11st!
Wanted period
[Application period] November 2023, 11 (Wednesday) 1:9 to December 00, 12 (Wednesday) 20:17
In the case of a large number of applications, winners will be decided after a strict lottery after the application deadline.
Successful or unsuccessful applicants will receive an email from the secretariat about one week after the deadline.
The target number of people
100 local residents
Age does not matter.However, the general lifesaving course is limited to junior high school students and above who live, work, or study in Tsukuba City.
Entry fee
Free 
Please bear the communication expenses associated with the online course.
Application form
Application Form(go to google form)
* Personal information at the time of application will be used only for this project.
Course period
Wednesday, January 2024, 1 – Sunday, June 10, 6
We will distribute videos from time to time divided into the first half and the second half.Please take the course when it is convenient for you.
How to attend
On-demand delivery (viewing on YouTube).
We will email you the URL of the video.Please select your favorite 10 credits and take it (you can also take all courses)
If you choose the general lifesaving course, you will be attending face-to-face (*) at our hospital.
*Please note that the general lifesaving course may be canceled due to the outbreak of infectious diseases.
Participants who completed the course
◇Those who complete the 10-credit course will receive a certificate of attendance and participating items.
◇Souvenirs will be awarded to all participants.
◇A certificate of completion of the ordinary lifesaving course will be awarded by the fire department to those who have taken the ordinary lifesaving course.
Organizer / sponsor
Organizer: Tsukuba Medical Center Hospital Sponsor: Tsukuba City
Contact Us
Tsukuba Medical Center Hospital Regional Medical Cooperation Division
Tsukuba Medical College Secretariat *We do not accept inquiries or applications over the phone or at the counter.
Contact us from here (go to google form)
Lecture theme (provisional) and number of credits